rebel skates boarding school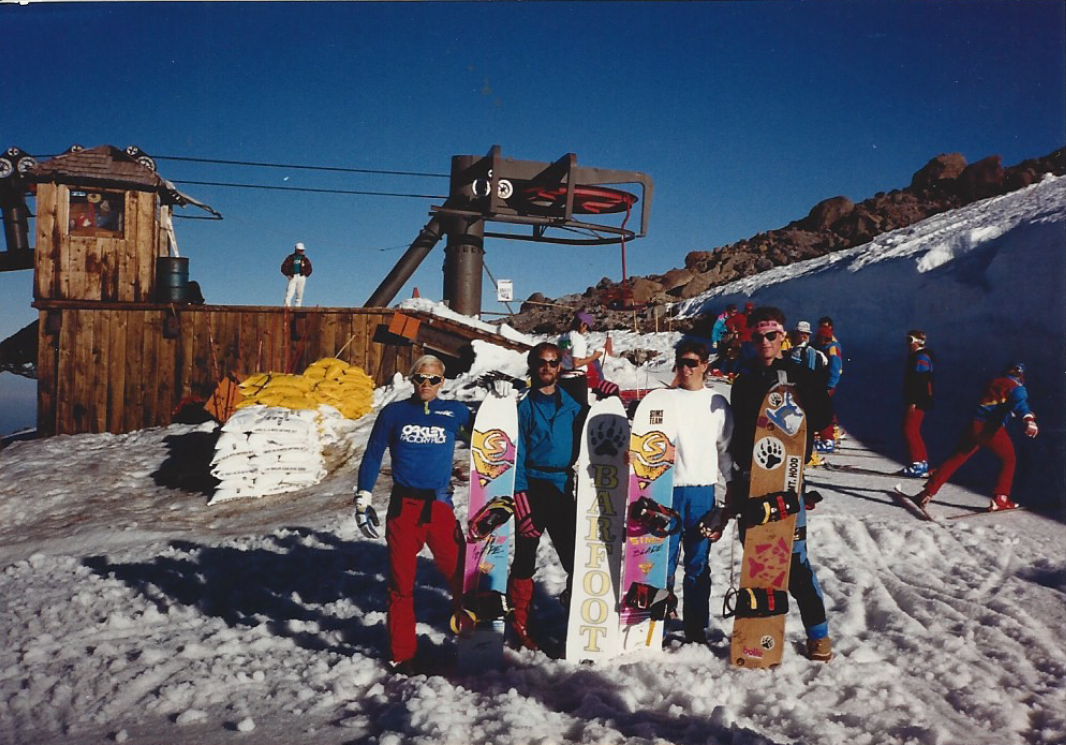 1988- rebel boarding school brochure
Thanks for your interest in Rebel's Summer Snowboard Sessions on Mount Hood. The packages are available in June, July, and August, Please indicate your first and second choices on the enclosed application. We will reserve dates for you on a "first deposit, first reserve" basis.
The sessions will be held on an exclusive lane that has slalom flags and a halfpipe at the bottom for freestyle training. Three members of Rebel Boarding School's world class snowboard team will provide individual instruction. They are Mike Estes (Barfoot), Eldon Hargraves (Barfoot), and Kris Jamieson (GNU). Guest coach Chris Karol. together with major snowboard manufacturers, will be in attendance with tips from team riders as well as an opportunity to demo new products!
We are snowboarders who realize the sport goes on after the snow melts; we offer these sessions in the spirit of co-operation and fun. We hope you can make it!
A TYPICAL DAY AT REBEL'S BOARDING SCHOOL:
6:00 A.M.- WAKE UP - EAT BREAKFAST, DRESS FOR A DAY ON MT. HOOD, PALMER GLACIER TO TRAIN. OTHER ACTIVITIES WILL INCLUDE: SKATEBOARDING, SWIMMING, TENNIS, MOUNTAIN BIKING, WINDSURFING, ALPINE SLIDE, AND MORE!!!
7:00 - 7:30 A.M.- ARRIVE AT TIMBERLINE LODGE
8:00 A.M. - SLALOM AND GIANT SLALOM TRAINING
11:00 - 12:00 A.M.- LUNCH BREAK
12:30 - 2:00 P.M.- HALFPIPE AND MOGUL TRAINING
2:30 - 3:00.P.M.- LEAVE TO GOVERNMENT CAMP
3:00 - 6:00 P.M. - DRY LAND TRAINING, WEIGHT TRAINING, STRETCHING, RECOVERY DRILLS, FREE TIME
6:00 - 7:00 P.M. - DINNER AT GOVERNMENT CAMP
STUFF TO BRING: AIR MATtRESS, TOILETRIES, SLEEPING BAG, EXTRA SPENDING $, SKATE EQUIPMENT, ENOUGH CLOTHES FOR WARM AND COLD WEATHER, SUN BLOCK AND SPEX FOR HIGH ALTITUDE TRAINING. * *THE SUN IS INTENSE AND THE RUNS ARE SALTED.
HERE'S WHAT YOU GET:
1. An Exclusive Lane with Slalom and Halfpipe
2. All day Lift Ticket at Timberline's Palmer Ski Area
3. Lodging, Breakfast-Lunch-Snack Break
4. Dinner at Government Camp
5. Quality Instruction in Mogul, Slalom, and Freestyle Techniques
6. Video Analysis and Progress Reports
7. Snowboard Maintenance and Tune-up Classes
8. Airport to Mountain Shuttle Service
9. A Complete Snowboard Shop on Location
HERE'S WHAT WE WANT:
Full deposit and application with first and second session choices. Full Sessioners receive First Choice status. Larger reservation chunks of days receive higher attention than mini sessioners. Rebel Boarding School will accept Money Orders, VISA, Mastercard, and American Express Credit Cards. You will receive a FULL REFUND if you must cancel your reservation by JUNE 30TH. There will be NO refund offered after June. There is room for only 30 Full-Sessioners per reservation. To assure placement, call 503/223-6666 - 11:00 a.m. to 7:00 p.m. Pacific time.
TRAINING INFORMATION: Palmer Glacier Lift. Riblet Length of Lift: 5,490 feet. Vertical Rise: 1,529 feet. Altitude: bottom terminal 7,000 feet. top terminal 8,500 feet. 30-minute chairlift ride to top of Palmer from Timberline Lodge. Average Length and Width of Training Area: Length-2,600 feet. Width-60-80 feet.
GOVERNMENT CAMP DRYLAND TRAINING CENTER. The Dryland training Center is centrally located in Government Camp. There is no charge for use of the center or the equipment. The center is open 2 pm to 8 pm Monday through Saturday. The Dryland Training Center is ideal for continuing a personal workout program while away from home or initiating a weight training program. The Universal weight equipment is at the heart of the center, and space for stretching and exercising is available to everyone. Volleyballs, soccer balls, basketballs, and footbags are available free of charge at the center. The Dryland Training Center also offers a large quantity of information about activities near and around Mt. Hood. Windsurfing, swimming, river rafting, hiking or visiting the nearby urban offerings of Portland are just a few of the adventures available.
ALSO, A SPECIAL SNOWBOARD INSTRUCTOR'S CAMP WILL BE HELD FOR TWO DAYS (6-11 AND 6-12) THE COST IS $95.00. DUE TO THE LATENESS OF THIS MAILER, WE WILL TRY TO ACCOMmoDATE ANYONE! WISHING TO ATTEND INSTRUCTOR'S CAMP AT A LATER DATE. CHECK THE BOX ON THE APPLICATION IF YOU WANT TO ENROLL IN INSTRUCTOR TRAINING!!